VPN, Proxy, Tor and Bot Detection API
Proxy and VPN Detection is difficult, but our API makes it easy.
Detect VPNs, Proxy, TOR or Bot IPs
Whether it is fraud, circumventing geo restrictions, content crawling, spam or hacked logins being abused, anonymized IPs can be a real pain to deal with and can cost you real losses.
Our VPN Detection API makes detecting anonymized IPs easy. Our data collection nodes are active 24/7 and provide you with high quality up-to-date threat intelligence so you can detect anonymized requests and make the right decision.
Try For Free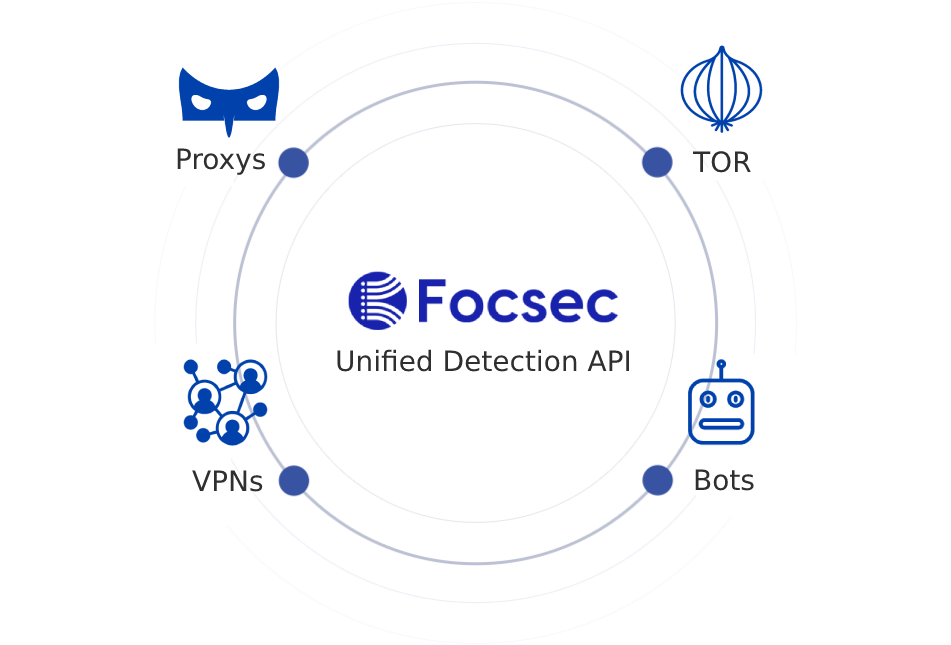 High-quality threat intelligence, always up-to-date.
We are monitoring the web 24/7, detecting new threats instantly.
Our proprietary data collection nodes are constantly monitoring the web to give you up-to-date intelligence. We do not rely on outdated, static blocklists and neither should you. Additionally all data is carefully filtered and classified to avoid false positives.
Detect even more threats
VPN Detection detects nearly all commercial VPNs using proprietary technology
Proxy Detection detects regular proxies and even residential proxies, often used for scraping and crawling
TOR Detection detects requests coming from the TOR network
Bot Detection detects bots used for spamming and automated attacks
How our Proxy and VPN Detection API will help you make better decisions.
Not sure if Focsec is right for your use case? Get in touch for a free evaluation.
Fraud Detection
Detect suspicious orders and flag them for investigation by your team.
Monitor Your Internal Systems
Hackers use anonymization services like VPNs or TOR to hide their identity. Detect VPN traffic in your network and keep your systems safe.
Stop Scrapers and Crawlers
Simple rate limiting no longer is effective against scrapers, they hide behind thousand of proxies. Use our API to stop them from stealing your content.
Detect Suspicious Logins
Passwords get leaked all the time. Use our API to detect suspicious logins and warn your users. This will keep your users personal data safe and prevent fraud.
Ready to get started?
Enjoy all features and full API access with our free 14 day trial.
Try for free